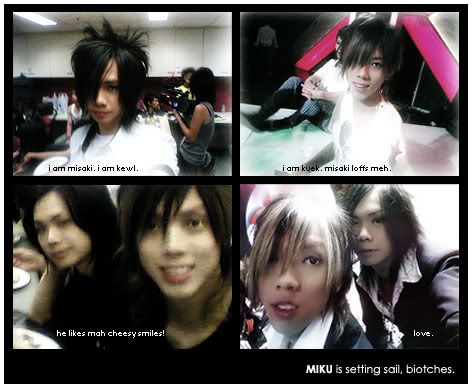 You may also know me as
firewhiskey
, who posted here once upon a time. Anyway 8D
I'm here today to introduce you to a new fandom that I didn't expect to find. Local slash to me usually came in form of Sly/Taufik, which we all know is scarce in the first place, but the great thing about talent shows is that the slashfest will keep on coming xD And so. I present to you
Misaki x Kuek
, your resident guitarist and bassist from Superband contestant
Lucify
.
It is apparent to me that Misaki holds Kuek dearer to him than any other band member. It shows in his blog entries and photo albums; he hardly ever takes photos with any other member but Kuek (and in those pictures they are always... how do you say... cosy). In fact, the photos he takes of Kuek number the highest in the albums.
I honestly regret missing out on the previous Superband episodes, because the interaction between Misaki and Kuek is simply the cutest. In the previous results show, their camaraderie was apparent; Kuek made a comment to the camera, got mock-smacked by Misaki and the two tottered off in an affectionate hug. Friendship or love, I don't care. I'm just content with the slash, man!
ANYWAY. That's it for the introduction. Now I shall be shameless and plug a Misaki x Kuek fanfic I wrote. Interestingly, I simply wanted to write a Lucify friendship fic, but it just became... Miku-ed. Comments will be appreciated :D
Title:
Red Boxes
Author: Jas
riiche
Fandom: Superband (Lucify)
Pairing: Misaki x Kuek
Synopsis: Misaki reflects on Lucify's standing in the revealing moments of The Revival Show.
P.S: Lots of Summer Breeze (Xia Re Feng) bashing, don't bish me if you're a fan :B
Current Mood:
groggy